All-in-One HD Video Magnifier with Full Page Text-to-Speech
HD • Full Page Text-to-Speech (OCR) • 3-in-1 Camera
DaVinci Pro is a high performance desktop video magnifier (CCTV), featuring a Full HD 1080p 3-in-1 camera and Full Page Text-to-Speech (OCR). View crystal clear images in vibrant color and contrast with the Davinci Pro's Full HD 1080p camera. With a high resolution LCD screen you get the maximum picture detail for a clear, bold display. The DaVinci Pro also offers a large field of view allowing you to see more on the screen. DaVinci Pro's full page OCR allows it to easily read your favorite article or book aloud in a male or female premium voice and in many different languages. When having the DaVinci Pro read to you aloud, you have the option to have it read a full page or select an area of the page to be read. Changing between live image and OCR is simply done with the push of one button. DaVinci Pro's 3-in-1 Full HD camera allows you to see near, far or a mirror image making the DaVinci Pro the perfect electronic magnifier for any task. The DaVinci Pro is great for applying make-up, shaving, reading, writing, viewing presentations and whiteboards and so much more! The DaVinci Pro's sleek design makes it a perfect addition for work, home or school.
CCTV Features: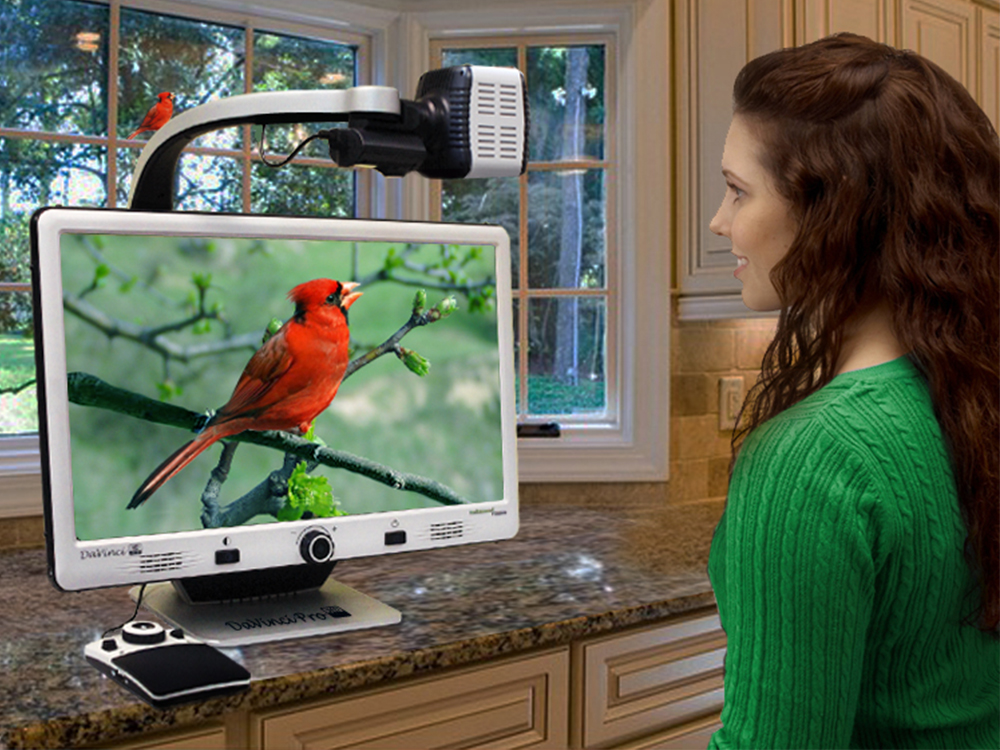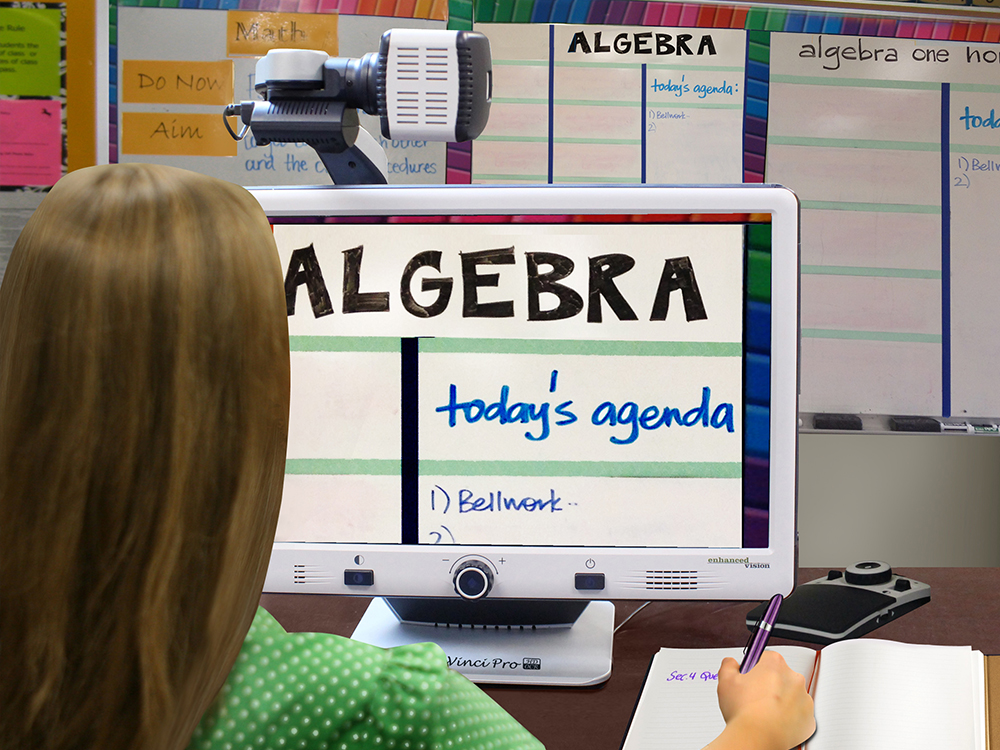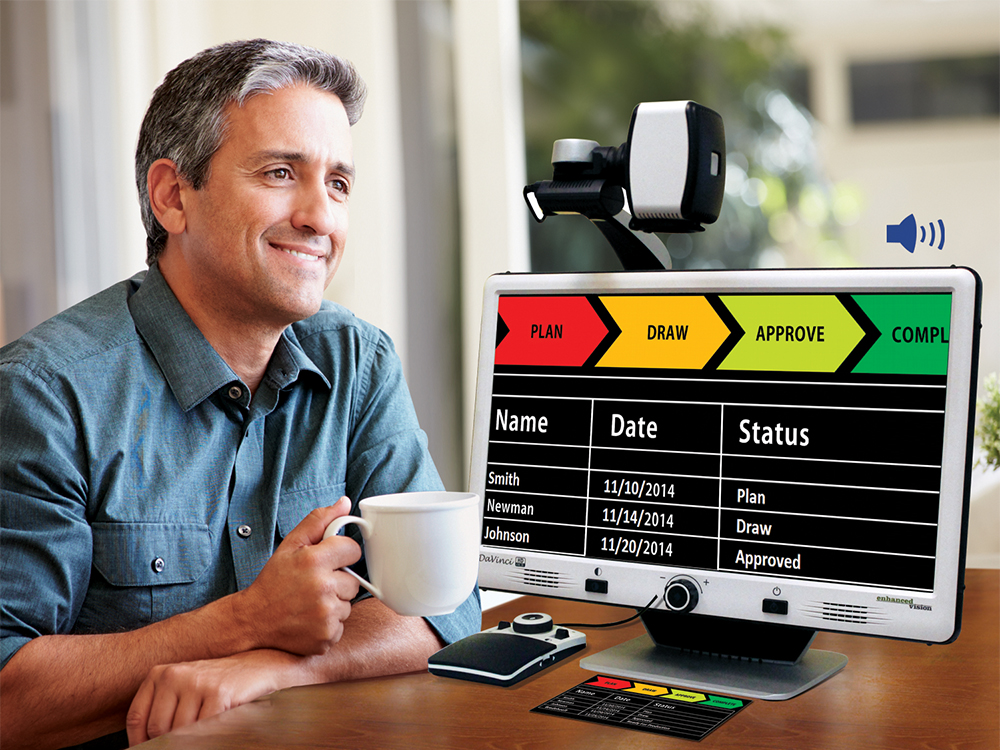 Full HD 1080p camera for live CCTV mode
24" high resolution HD LCD, pivots for best image quality
Auto focus 3-in-1 camera for self-viewing, reading or distance viewing
Magnification up to 77x
Slide mechanism provides flexibility for various camera arm positions
28 viewing modes to optimize contrast and brightness
Computer compatible – toggle between CCTV and computer, connects to iPad
Set up is easy, just plug in and begin
OCR Features: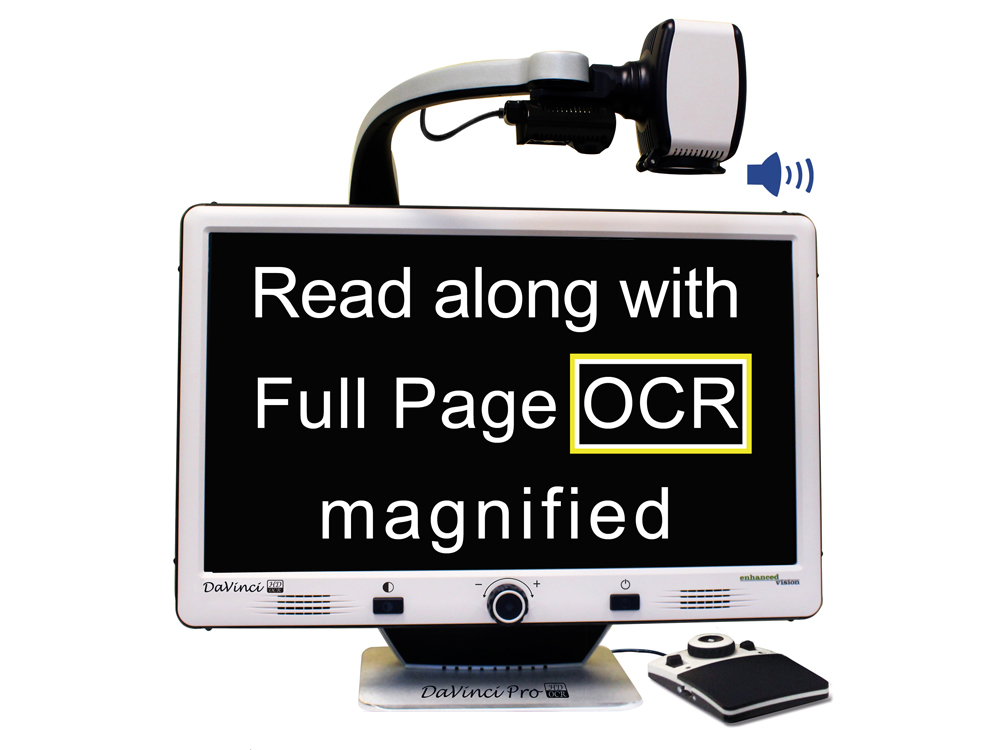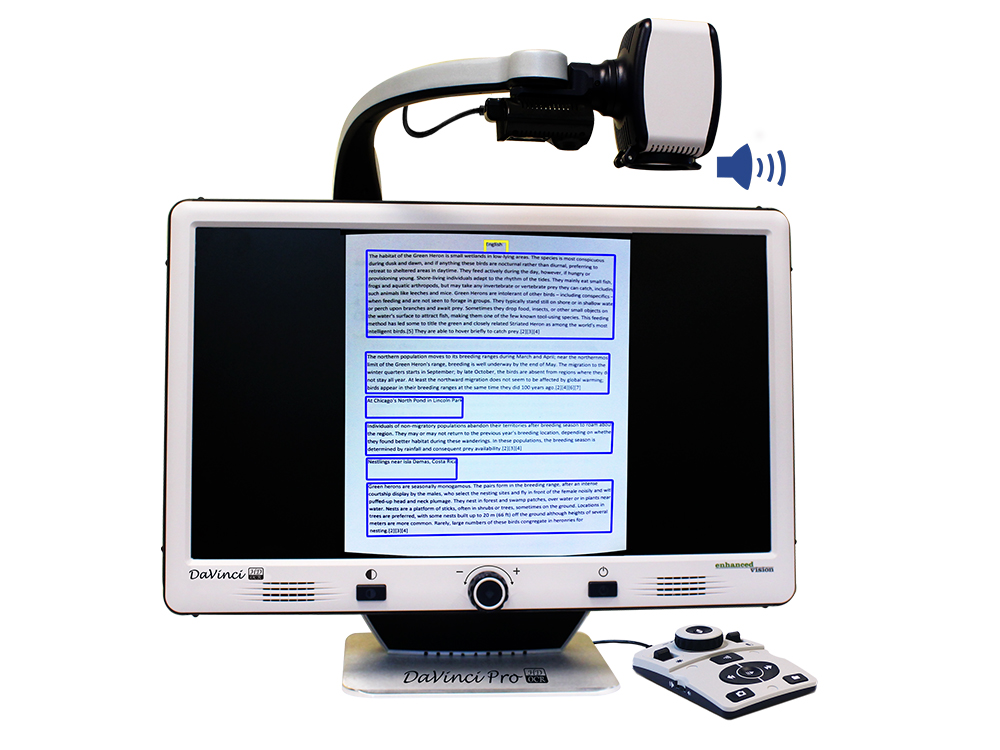 13 Mega Pixel Camera for accurate Full Page Text-to-Speech (OCR)
Reading preview lets you read the entire page or toggle through paragraphs and read selected text
Easy-to-use console with simple and advanced modes
Male & Female premium voices
Save documents, pictures or books and export files to your PC
Product Measurements:
24" LCD: 22.25" H x 22.75" W x 19.75" D (65.1cm H X 57.8cm W x 50.2cm D)
Camera: High Definition 1080p Full HD Camera
Product Weight: 21.4 lbs (9.7 Kg)
Magnification Range:
Normal Range: 2.0x – 36.6x
Extended Range: 2.0x – 77.0x
Power Supply: Input voltage/current: 120-240 VAC / 0.3-0.5A (nominal)
Output voltage: 19 VDC
Frequency: 50 OR 60 Hz
Power usage:
While ON 30W
While in Standby Less than 5W
While OFF Less than 1W Equipment Classification (IEC 601-1):
Type of Protection: Class 1
Degree of Protection: Type B
Mode of Operation: Continuous
Operating temperature range: 0-40°C / 32-104°F
Storage/transport temperature range: 0-60°C / 32-140°F
*Product specifications subject to change without notice.
OCR Storage Capacity: The file size of an OCR scan varies based on text density. 1000 full page scans at minimum can be stored on DaVinci Pro.